July 21, 2005
Cheah Chu Wen was at Chong Pang Market when he saw this.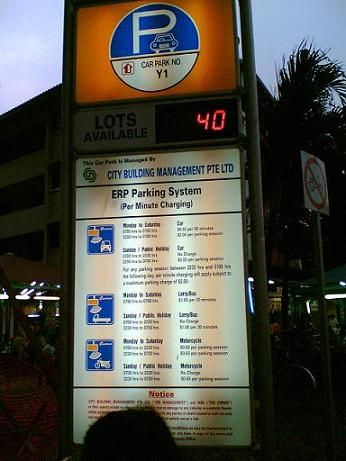 Yes we all like the "Lots Available" display. It means you know whether or not you need to go to the other carpark right away without having to go one round and get stuck behind cars taking their time to park and dodging pesky pedestrians walking across the carpark. With a pay-by-minute system people who eat at the nearby Chong Pang hawker will leave the moment they're done eating simply because they're aware they're charged by the minute. So they won't hog the seats after their meals, meaning a higher turn-over rate of customers for the hawker centre. Good news for those dining there and hawkers I guess.
June 29, 2005
Exquoria said:
Do you yourself unknowingly park a little more to the side of the parking lot?You don't really want to re-park again cos you are either lazy or plain in a rush for time.BUT HOW OFTEN DO YOU GET A THREATENING NOTE ON YOUR CAR FOR DOING THAT?
So what kind of notes have you received or put on cars yourself?
June 17, 2005
moe said:
Note! It says '...not a popular decision...' so why gahmen say that it was due to feedback and complaints that they 'deliberately implemented' (see previous quote on URA's first reply to me) this policy of not building any HV parking facilities in/near HDB estates?!?!?
Voices of the people on the ground. Not from those sitting in cosy chairs in air-conditioned and nicely decorated offices.