May 06, 2009
fireopal said:
The police took down the driver's particulars on a piece of paper, then when asked about the offence committed... then came his golden answer in broken English:" Sir, you eat keropok when driving, very danger! later get "Lang Gar" (colloquial for crashed in an accident) .. so i summon you.."
Recommended by Anonymous Coward: "Amazed by the ingenunity of the Malaysian Police Force... they never fail to think of any reason!"
November 06, 2008
Jialat said:
I WANT MY MONEY! Do not tell me what problems you have, how difficult it is to clear customers payment or to run a startup. I am not interested to know. I have given enough time, patience and chance and I am fxcking fed up right now. You have problems, solve them, don't tell me.
Recommended by Anonymous Coward: "Bloggers have been putting up with their empty promises to pay on time for the past 6-12 months. They are always citing cashflow problems. Lehman Brothers on the local scene?"
March 29, 2008
Simply Jean said:
Yes, apparently, not all $50 are equal. Some are worth more than its face value (the ones with special numbers, or well preserved old notes), some are worth what they are while others… are not worth a single cent at all.
Recommended by Anonymous Coward: "You mean my money with all the writings from previous users of it is now not legal tender?!"
April 14, 2007
Shawn W Crispin said:
At the same time, Singapore's lower- and middle-class taxpayers, who directly and indirectly shoulder the tax burden, now face a stagnant or declining standard of living - a hard economic fact that even official government statistics have recently acknowledged. The PAP-led government, for its part, maintains it must pay high salaries to attract top-notch talent and curb official corruption. But the final verdict on that correlation will not be known until the PAP is eventually removed from power at the ballot box and the national accounts are independently scrutinized.
Recommended by Anonymous Coward: "Here an insightful article about how the PAP government's policies have resulted in an unhealthy economy riddled with structural weaknesses. The irony is that these shoot-yourself-in-the-foot policies are undertaken at the expense of lowering the standards of living for most Singaporeans --- with hidden taxes that impoverish the middle- and lower-class."
November 16, 2006
Bracing for a better or bitter tomorrow for Singapore....
Retro Song: Money Money Money by ABBA (machoED MSMH version)
True ABBA gem @ http://www.youtube.com/watch?v=8TKKtErL-Zo
Credits: Photos shamelessly ripped from the netizens.
Note: No Hum (c.o.c.k.l.e.s) is harmed during production of this clip.
October 08, 2005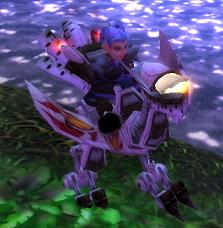 Jseng's effeminately purple pet
Jseng said:
But is virtual farming viable? Let see, a level 60 rogue can easily "farm" 50-60 gps an hour..that is about 5 USD/hour. Not a lot of money but Macdonalds in Singapore don't even pays that well! So I am certain these "Chinese farmers" are making a pretty decent living in China.

So next time, don't send your kids to work for Macdonalds during their holidays; Get them started on World of Warcraft ;-)
Recommended by cowboycaleb: "Back when I was a kid, I played Super Mario Brothers and Street Fighter 2 all day long without making any money. These days, you have can play video games and make some moolah at the same time. Talk about having your cake and eating it!"
If you play WoW, you're also welcome to trackback your blog here.
July 07, 2005
Little Speck said:
To an extent, it has distorted society. People often see money as a quick fix for all problems.

Take the case of nine-year-old Jeremy Tio, who was lost for three nights recently in Fraser's Hill with his three Malaysian cousins.

When he was found, he emotionally hugged his rescuer and said, "I love you."

But he revealed his Singaporean upbringing when he told his Malaysian rescuers, "If I give you money, can you take me home?"
Interesting article about how youths treat money these days.
June 13, 2005
DrMoney said:
Are you thinking of buying a flat? If so, watch out. Some banks offer good home loan deals, while others don't.

Comparison table for Home Loans(private)
DrMoney aka Larry Haverkamp, is one of Singapore's best kept secrets for financial planning information. There is a lot of confusing and conflicting financial information out there but do not fear because DrMoney tells it like it is - in simple plain english. DrMoney has a weekly column in the New Paper and is highly recommended for:-
Teenagers: Learn about personal finance so that you won't be clueless when your time comes
Working adults: Admit it, we're all clueless. Do not trust your bank/insurance agent/financial planner. Read and DIY.
Elderly adults: You need to read this more then anybody else. DrMoney is also elderly and he gives sound advice.
Link to current article
List of older articles written by DrMoney
Dr Money also has his own website that's chock-full of useful information
[cowboycaleb: Disclaimer: I do not know DrMoney in person but I am a big big fan.]
May 09, 2005
mrs budak has some sound advice for those thinking of getting married. Caleb? You listening?
This post is addressed to the GERS out there who dream day and night of a fairytale wedding. Let me be the un-fairy godmother and burst that dream - after your wedding (okay, honeymoon for those really lucky ones), the next day, you still need to wake up and clean the house, wash the toilet, make the bed etc. One day of wedding will not guarantee a lifetime of happiness. So ease up and don't be so demanding of the poor chap. You want to have a happy life together and planning a wedding that won't kill either of you is the first step.

Here are some specific hints to having a happy wedding:

1) Elope...
[shianux: I'm taking notes... will come in handy soon enough... heh]
April 19, 2005
Kaili said "Thinking about applying for a PhD scholarship at the National University of Singapore, with the Asian Migration Research Unit. I wasn't feeling particularly inspired on the job front, since in NZ there seem to be very few development related jobs, and very few research jobs. In fact, job hunting today was really depressing.
Fortunately, NUS apparently has loads of cash. And my current boss was very encouraging with my ideas for a proposal. And offered me more work here as a research assistant (yes!) in regards to indigenous knowledge (which I find really interesting). So, looks like I may be able to bludge off the university for a while longer, get some work experience (and hopefully get rid of my student loan and buy a plane ticket), then get a fully-paid few years in Singapore. Sweet."
[Ed: Kaili isn't exactly Singaporean or in Singapore but it is nice to hear what others thinks of Singapore once in a while.]