March 24, 2008
DK said:
The special thing about this car is that it has 2 gas tank, one for normal petrol and the other one is for hydrogen. Yes, this car runs on hydrogen... Car running on hydrogen only produces water vapour which is not harmful to the environment.
Recommended by litford: "BMW recently had a CleanEnergy Exhibition that featured the new BMW Hydrogen 7 Series cars that ran on hydrogen, and produced only water in its emissions. DK got up close and personal with it and shows us some great developments in the area of green technology."
July 27, 2007
air39, Sammyboy forummer, spotted the SPF1 mercedes parked in a public carpark in the Bukit Timah area without any coupons.
The time is about 4:12pm dated 27 July 2007 ( Thur ) .. May I know if the person is the Police Commissioner of Singapore out shopping or buying ToTo along that stretch of shops? If he is, HOW COME HE NEVER PUT COUPON? CAR PLATE ( SPF 1 ) Mercedes no need to put coupons??? What is this?

Even Lee Kuan Yew has to put coupon in Singapore. Who does this man think he is?
May 15, 2006
Calvin Y said:
Do you all want to know something? I'm a very proud Malaysian. In Malaysia, my house has two Protons, a Proton Wira and Proton Iswara (is that how you spell it?). When I fly back to KL, I drive a Proton around. So there you go! I love Protons and Peroduas. They are small, cheap, not so reliable but that's fine and it brings out the patroitism and the Malaysian spirit from my heart.
Recommended by Anonymous Coward: "such enthusiasm about proton is puzzling"
April 22, 2006
kormmandos caught this on his camera...
The "third party":

So anyone want to buy 4D?
This morning I was awoken by 3 bangs. I got out of the house and caught this.
This road has seen many, many accidents. Mainly due to motorists speeding to beat the traffic light.
Link
March 08, 2006
Zpeedo said:
In the hills of western Singapore, there is a Kanniah San, little is known about this mysterious man. Rumors has it that he is somewhat a refugee from the land of the rising sun, disowned by his family that makes toufu. He now spents his days furmating durian-flavoured yogurt and nights delivering them around the city.

To ensure freshenss of his hand-made yogurt, he rushes down the trecherious hills, also known as '99 Turns', in his Blitz Super-charged Celica SS2 with custom aerodynamics optimized to take those hair-pin corners flat-out. For a car wih excess of 400hp, he has never changed his brake pads for 5 years, he doesn't use them.
Recommended by gecko: "Singaporean version of Initial D"
March 06, 2006
Yee-Wei Chai said:
In case you did't know .. the Academy Awards is happening right now .... almost ... 15min from this writing.

I am stuck to the TV .. Do you have a TV? If you're working .. probably not? :P ,... Well .. I''ll be updating here live as it progresses. So .. reload and reload often :)
Recommended by ssf: "Live blogging the Oscars (for those of us stuck at work / school)..."
August 13, 2005
Ranting Rock said:
My usual returning home trip of 45 minutes has been reduced to 20 minutes. And I have saved petrol by cruising along the full distance.

All these, I just have to pay 50 cents.
A pro-ERP blogger.
July 21, 2005
Cheah Chu Wen was at Chong Pang Market when he saw this.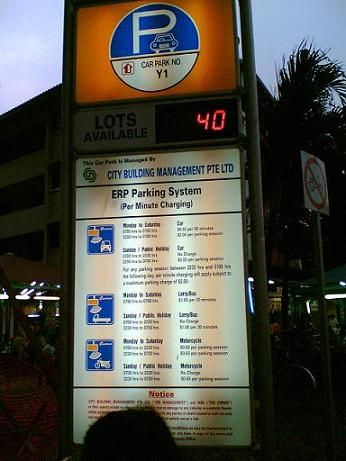 Yes we all like the "Lots Available" display. It means you know whether or not you need to go to the other carpark right away without having to go one round and get stuck behind cars taking their time to park and dodging pesky pedestrians walking across the carpark. With a pay-by-minute system people who eat at the nearby Chong Pang hawker will leave the moment they're done eating simply because they're aware they're charged by the minute. So they won't hog the seats after their meals, meaning a higher turn-over rate of customers for the hawker centre. Good news for those dining there and hawkers I guess.