April 17, 2008
Mr Wang said:
I wonder what that is supposed to mean.

It is very difficult to see how one can spend large sums of money campaigning online. In Malaysia's recent elections, the Internet played a huge role in influencing voters. Yet practically all the Internet activity took place via Blogger, Wordpress, Youtube and other completely free Internet platforms.

Contrast this with campaigning offline. You would have to spend money printing and distributing posters; placing advertisements in traditional newspapers; hiring lorries and drivers to ferry candidates around the country to meet the electorate; and making large-scale logistics arrangements for election rallies. That won't be cheap.
Recommended by at82: "I thought the best thing about internet election campaigning is that its production and distribution cost can be very low?!"
October 10, 2007
Having been selected as a top 20 U.S. college blogger, it all depends on the cast of your vote to make winning US$10,000 a reality. If Kevin wins, he'll have everyone decide on what to do with it. He'll listen for ideas on using the money wisely, such as for a worthy cause (e.g. Saving Burma, Creative Commons, OLPCs for all, etc).
Recommended by Kevin Lim: I'm currently ranked 12th out of 20, so I'll have to call upon a nation to vote if I want to win. In return, I'm hoping to use the money to make the world a better place, by having your collective wisdom decide on how I should use it. Closing date 28th Oct 2007.
August 13, 2007
stompAIDS is a competition that requires participants to create an innovative marketing campaign to raise HIV awareness among their peers.
Hook up with the right partners and score up to $10,000

Calling all Youth in tertiary institutions! Take on AIDS as a team in stompAIDS Challenge 2007. We're on the hunt for tomorrow's top creative talents in tertiary institutions who have the passion to make a difference today.
Link
Visit the Flickr photoset
However, someone has a different opinion for the campaign's logo and caption.
October 29, 2006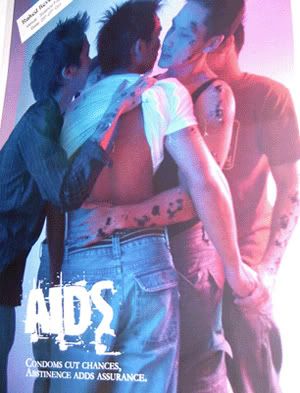 The Campus Observer said:
Good intentions are not always enough. In the case of the group Cre-AIDS-ive's bid in the StompAIDS Challenge 2006, the message has gone awry. An underlying agenda of moral concern clouds the issues that should rightly be addressed, such as actual prevention of AIDS. The group engages itself in an all-out scare campaign that, unfortunately, does little to actually inform people about safe sex. Just don't have sex, seems to be the message, or as they put it themselves: "Abstinence adds assurance."
Recommended by plumbago1000: "AIDS campaigns are never without controversy, and so is this campaign at NUS. It is all too easy, especially since this is part of a one-off competition (StompAids Challenge), to attract publicity using motifs that scream for attention. But what about the other messages relating to AIDS that should be highlighted? I don't know, but I personally am a little skeptical about the abstinence approach to AIDS prevention. "
March 27, 2006
Tribolum.com said:
Weeks after Tammy NYP became the most searched item in the web universe, the Singapore government decides to raise public awareness of what could be should you lose your phone.
Recommended by mb: "They really care about our privacy, sniff!"