June 04, 2007
theonlinecitizen said:
The original Auditor General Office's (AGO) audit of 12 Ministries and associated statutory boards has revealed irregularities to an extent not fully revealed by the recent Public Accounts Committee (PAC).

According to the AGO, losses of public monies added up to $6.2 million, a substantial amount of which is still unaccounted for.
Recommended by Anonymous Coward: "You sure won't hear about this on the front pages of our esteemed Straits Times."
March 14, 2007
pinkpaddlers said:
They come in all shapes and sizes. They could be your mother, your daughter, your sister, your girlfriend, your wife... even you. Ranging from a 65 year-old school principal to a biker chick, half the ladies couldn't even swim, but still picked up the paddles to form Singapore's FIRST BREAST CANCER SURVIVORS DRAGONBOAT team : They've found strength in being in the same boat, racing against the same disease. In September 2006, these ladies came together to compete against other fellow survivors from all over the world, in the first-ever Breast Cancer Survivor Dragon Boat World Championship - right here in Singapore. http://www.dailymotion.com/video/x1aky8_pink-paddlers-trailer
Recommended by Anonymous Coward: "Watch this with the women that you care for in your life. There's no pretty or sexy way of raising awareness about breast cancer, but everyone who has a mother, a sister, a girlfriend, a daughter, a wife, needs to know that : - Breast Cancer is the no.1 killer disease amongst women in Singapore, and in 2006, more than 1 woman lost her life each day because of this disease, but precious lives can be saved with early detection and there is life beyond breast cancer, as the Pink Paddlers are living proof to this!"
September 28, 2006
YawningBread said:
The Singapore Lions – a volleyball team – got to 4th place in their division at the Gay Games in Chicago, in July this year. The result exceeded their wildest dreams, competing against 25 other teams from around the world.
Recommended by Traminer: "Team from Singapore ranked no. 4 in international sports meet with participants from all over the world. Wonder why this is not featured in the Straits Times"
May 28, 2005
BigF*ck has a "sudden, inexplicable craving for chai tow kway". The only problem is that he's in Chicago, thousands of miles away from the nearest hawker centre, so he has to create his own: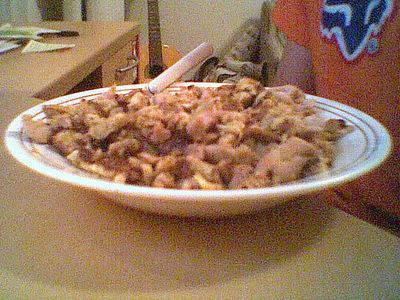 Naturally, I had to substitute all the ingredients I couldn't find, which were numerous. I ended up using egg-soaked bread instead of the whole normal cakes you get. I know, some of you are saying that this would probably taste like shit, [...]
[tinkertailor: poor guy. all this while roxanne (see post below) is enjoying the sg food expo...]